Dining room is not only a place for enjoying meal time together with friends and family, but also a place to share stories. Therefore, a dining table should provide ultimate comfort and stylish look. When it comes to traditional yet stylish look, nothing can beat Japanese dining table. Read on to find 10 elegant Japanese dining table ideas that can adorn your house.
1. Elevated Japanese Dining Table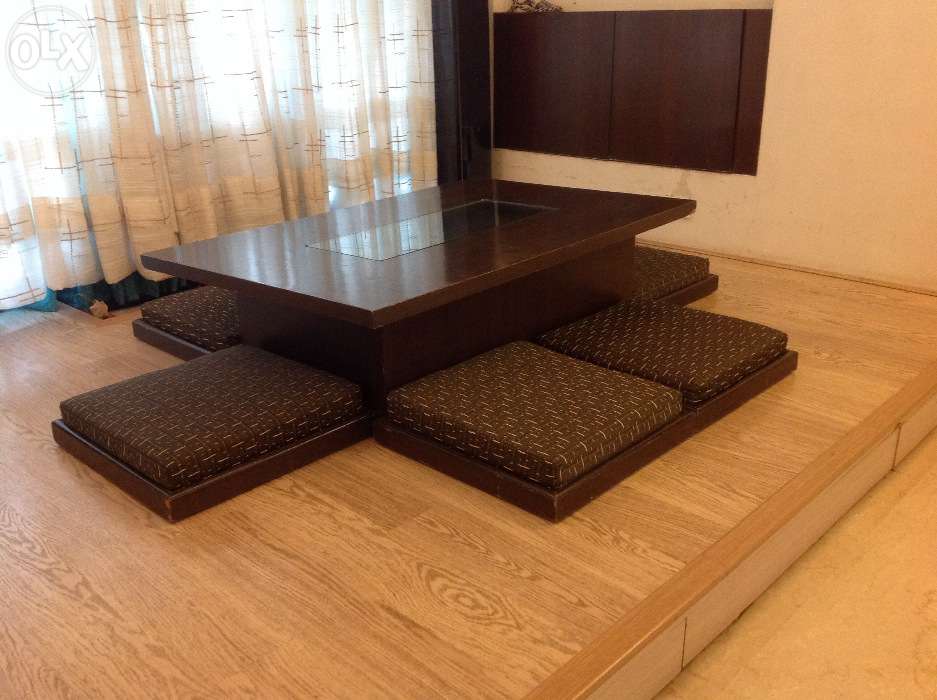 One of the most significant features of a Japanese dining table is the low level table and the absence of chairs. You will just find some cushions instead of chairs.
This brown dining table sits perfectly in an elevated part of a room, defining a dining room without extending any rooms. The dark brown blend perfectly with the light brown of the wooden floor, creating an elegant ambience to the dining room.
2. Modern Japanese Dining Table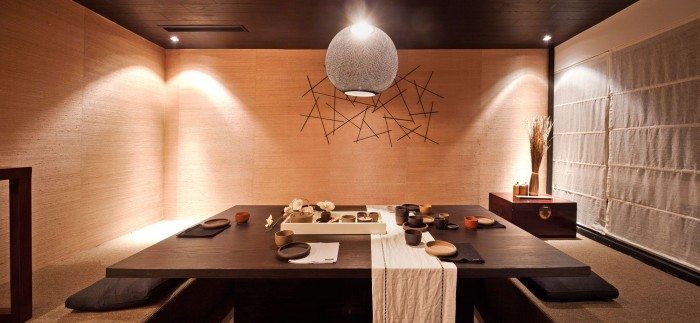 When traditional style fuses with modern style, you will get a super cool style. This dining table looks extremely elegant and lush despite the traditional look. Thanks to the silver Chinese lantern that packs futuristic style in traditional style without overlapping it.
The recessed downlights create pleasant dim light to the room instead of a glaring white light. Besides, the dim light provides romantic ambience to the entire room. It is such a perfect place to take your spouse out for dinner.
Pro : The lantern is eminently awesome.
Con : It could cost an arm and a leg.
3. Japanese Dining Table with Chairs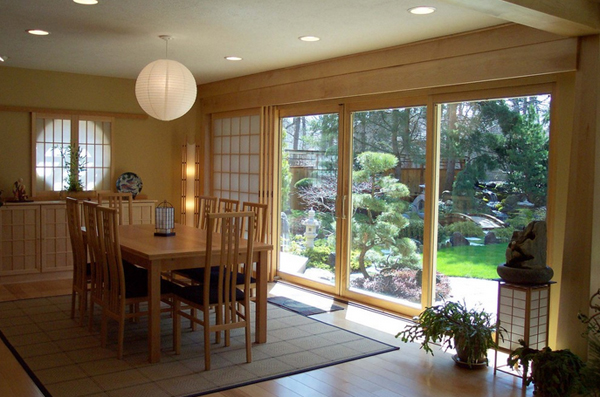 Japanese dining tables are usually low-level tables with some cushions. However, this dining table with chairs can still add Japanese style to your home.
Tips : To add a Japanese style to your dining room, furnish it with a dining table that has the same color as the interior design. You can add tatami – a type of mat used as flooring material in Japanaese-style rooms – and a Chinese lantern to highlight the Japanese style.
4. Japanese Traditional Dining Table with Benches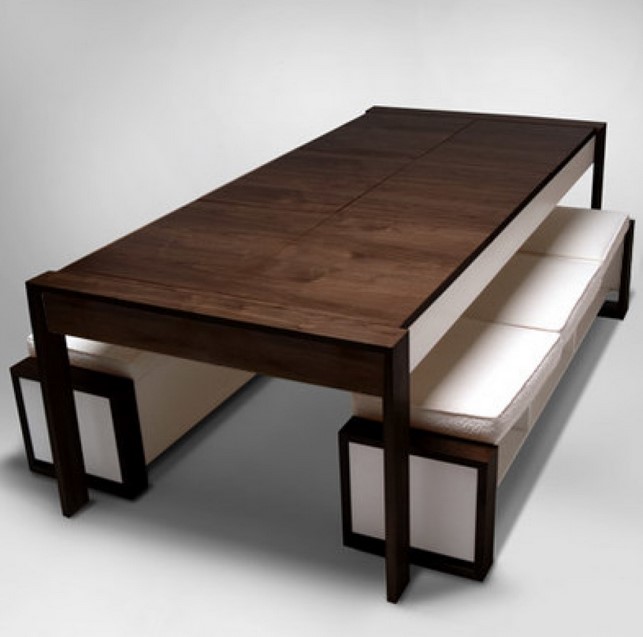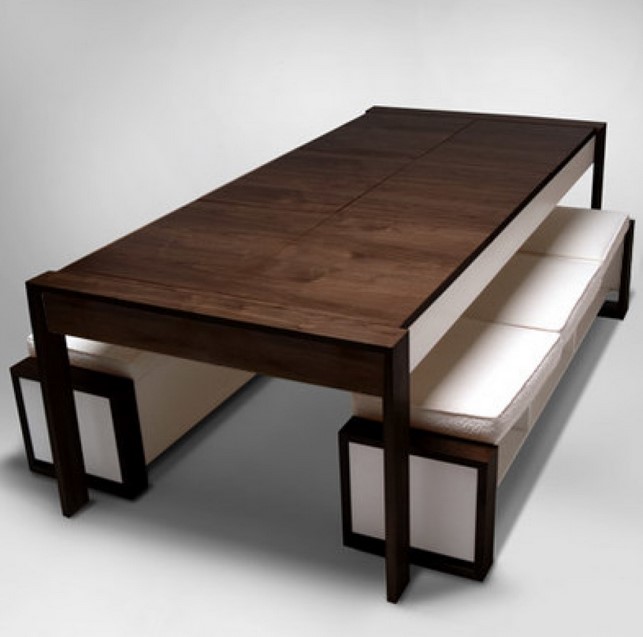 If you are not used to sitting on the floor with crossed legs and prone to have pins and needles after sitting on your legs for a couple of minutes, consider purchasing a Japanese dining table with benches.
This dining table is elevated a bit, providing adequate space for your legs to get their ultimate comfort. Although it is quite different from the ubiquitous Japanese dining tables, it still add Japanese style to your room.
5. Japanese Dining Table with Leaning Back Chair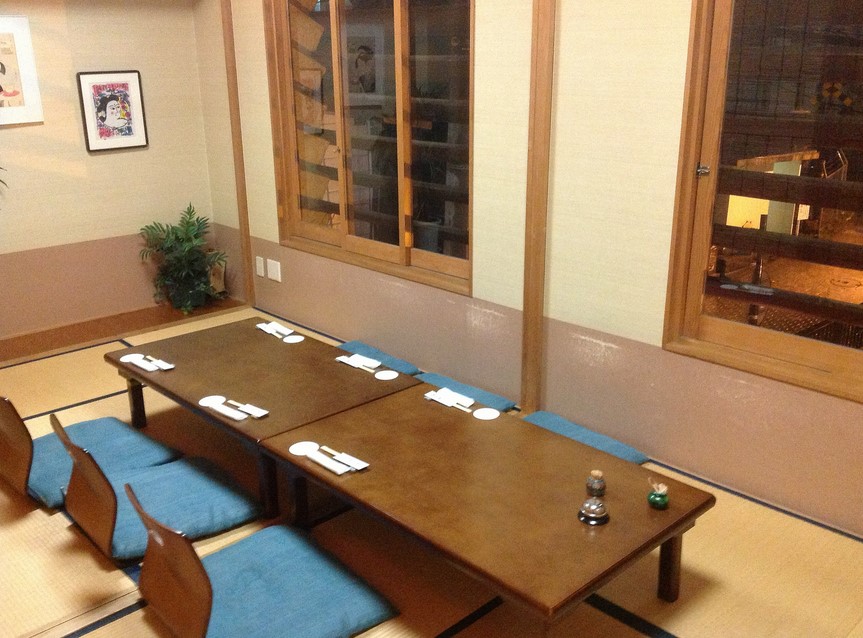 Sitting on your legs or with crossed legs can give you pins and needles as well as stiff back. It is really uncomfortable. But you still want to add Japanese style to your dining room. Don't worry! This dining table can be your great bet.
A Japanese dining table usually features cushions, but this one is quite different. It is thoroughly design to comfort you very well by adding leaning back chair – wihout any legs – to the cushions. With these comfortable cushions, you can linger over the meal comfortably.
6. Beachy Japanese Dining Table
When sitting at this table, you will instantly recall the memory of spending your time on a beach while walking on its whitish and beige sand.
The beige wall and flooring suggest the color of beach sand, and so does the table. Some small cushions embody the shapes of natural stones. With this spectacular dining table, you can invite your friends and colleagues to have dinner with you while chewing the fat at the table.
7. Mini Chairs and Bench Japanese Dining Table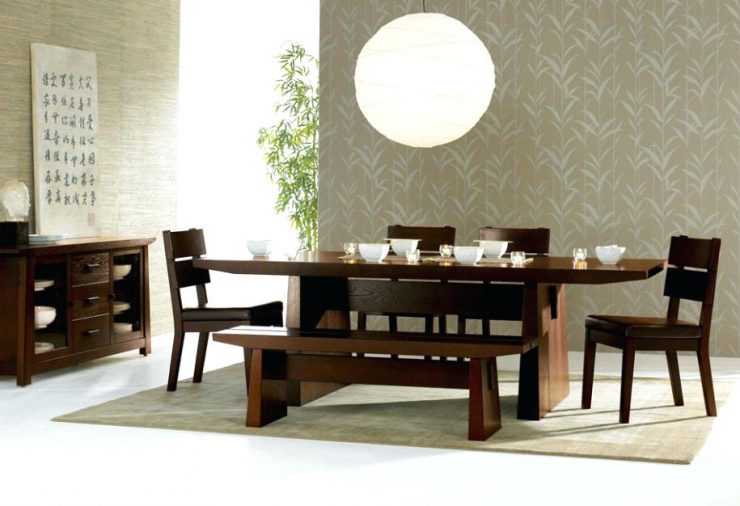 This dining table denotes the traditional look of a Japanese style. Fusing with modern interior design, it looks fantastic.
The distinctive design is also amazing. It enables you to sit comfortably since it features four mini chairs and a bench. Your kids will love this table since they do not have to struggle for sitting on a high chair to enjoy their meal.
The huge Chinese lantern is hung over the table to give sufficient light to it. Besides, the big size and beautiful design of the lantern accentuate the Japanese look and act as the focal point of this dining room.
8. Cane Ottoman Japanese Dining Table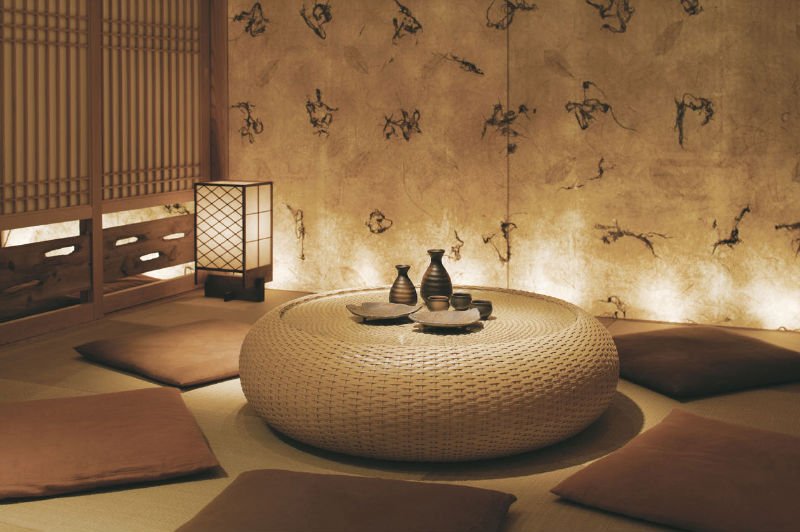 A Japanese dining table does not have to be rectangular. Even a round ottoman can add the touch of Japanese style to the room.
This cane ottoman sits perfectly on the beige tatami. Some thin cushions are arranged around the ottoman. The hidden light provides subtle lighting to the room, creating a romantic mood.
Another amazing thing from this ottoman is it can be used as a hidden storage. It is like killing two birds with a stone. You can get the Japanese look that you want as well as overcoming your problem with organizing things.
9. Built-in Benches Japanese Dining Table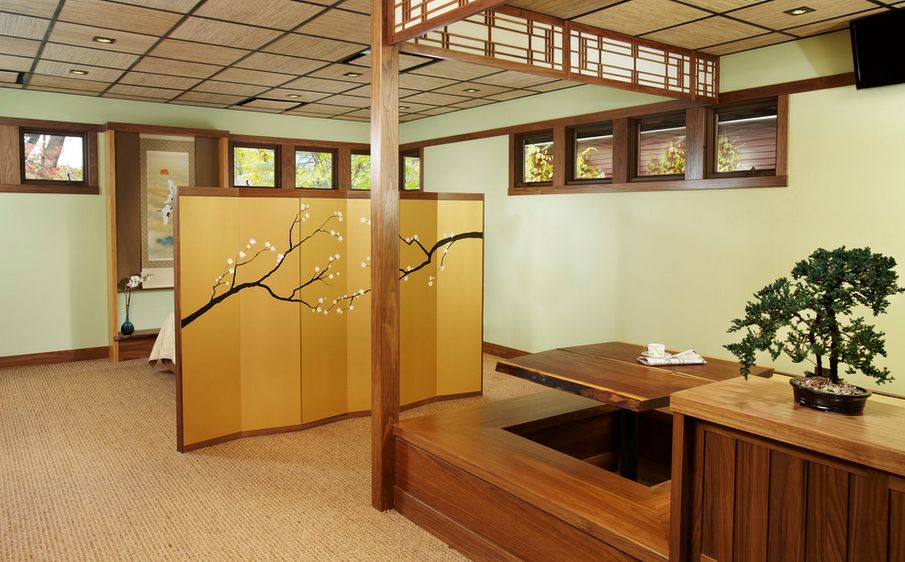 This dining table is such a brilliant idea to avoid tingling sensation in your feet due to sitting on your legs for a while. The dining table is placed in an elevated area of a room that has an open hole in the middle of the area.
The hole is used to place the leg of the table. You can sit comfortably at the table with your relaxed legs putting inside the hole, making the elevated area offers the function of a bench.
To kick the dining room up a notch, a bonsai tree and a painting of a cherry blossom are added. They perfectly highlight the traditional look of a Japanese style in your room.
Pro : The built-in bench enables you to sit comfortably and it will stick to the table forever. You do not need to worry about unorganizing benches now.
Con : The open hole can be dangerous for kids.
10. Monochromatic Japanese Dining Table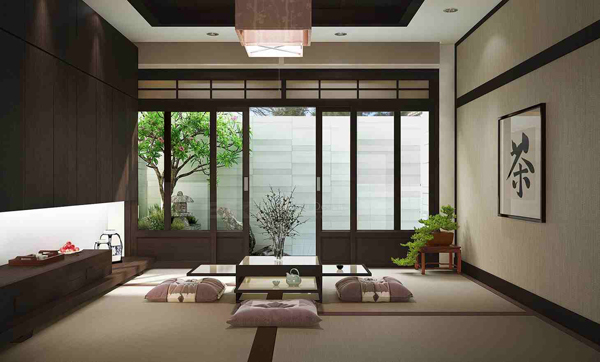 The good thing of a monochromatic room is it can suit any colors and styles, even the style of traditional look of a Japanese styles.
This dining table looks very great with the entire furniture in this room. The table is quite cool. Thanks to tatami that covers the whole flooring for lending the Japanese touch to the room.
There are many ways that you can do to add the touch of Japanese dining table styles to your dining room. Low-level table will be a special charm to any Japanese style. But if you do not have any low-level table, rolling out tatami to cover the floors beneath the table is your safe bet.