If you want to upgrade your kitchen pantry door, you will need some pantry door ideas. It's one of the simplest transformations for the kitchen. Doing kitchen remodeling will give a new look to your kitchen because it will add a different element to the room.
Pantry door is the one that gets overlooked often than any other element in the kitchen while renovating. Many home designers recommend the homeowners to do experiment with the pantry door and avoid sticking to the basic design.
With a little bit creativity, you can do things to your pantry door to make it more interesting. With a support from the ideas on this page, you'll get a lot better result. Here are 10 creative pantry door ideas to update your kitchen design.
1. Stylish Pantry Door Ideas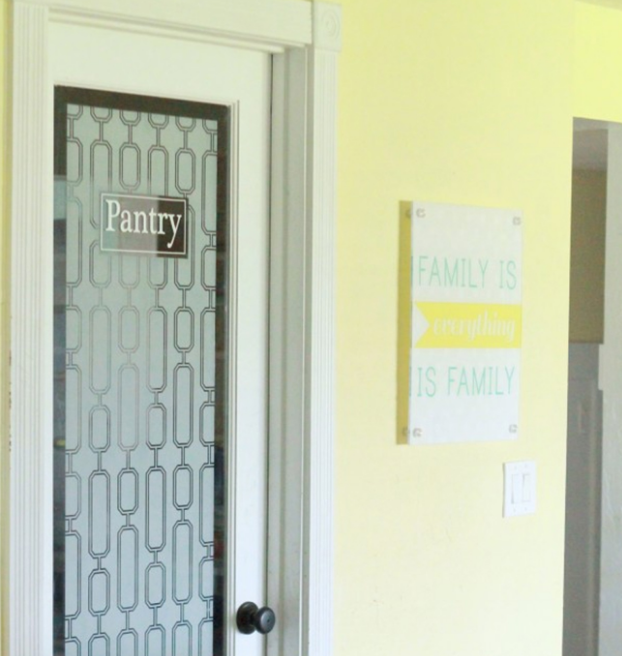 Choosing a glass door to show off your style in pantry door is a great way to let the light flow right into the pantry from the kitchen. This pantry door has the best solution for you when you have shelves that don't look neat.
As you can see, the glass on the pantry door uses a wallpaper for windows decal in order to get a pretty frosted pattern that will hide the stuff inside the pantry. So, the cluttering stuff inside the pantry won't be seen from the kitchen.
2. Colorful Pantry Door Ideas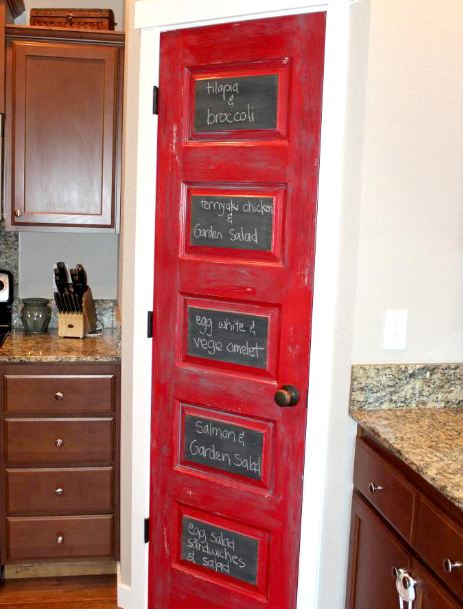 It's a great idea to give your pantry door a pop of color. Instead of the boring plain white pantry door, you can have this solid red pantry door. The theme of this pantry door is a chalkboard. It can be used for you to announce the menu for the week to the whole family.
In order to reach the exact design of pantry door, you will need some paint, a pumice stone, some soap, and chalkboard paint. The paint doesn't have to be solid red, you can choose any solid color you like based on the kitchen style.
3. Pantry Door Ideas with Beautiful Textures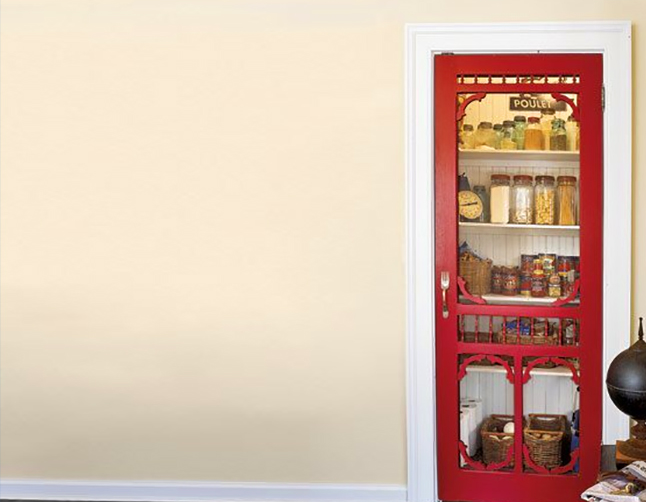 Some people might find this pantry door design to be looked odd. This beautiful-textured pantry door is actually a recycled from an old screen door. The impressive design of the door with decorative molding and adorable fork handle would definitely make you smile everytime you reach something inside the pantry.
4. Rustic and Industrial Pantry Door Ideas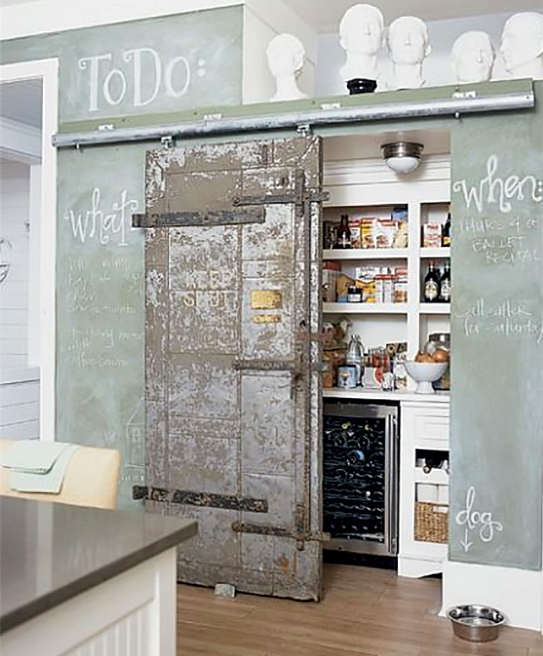 There's no other way to go all rustic to your kitchen design but using this rustic sliding metal door. The design inspired from the part of country cottage and industrial loft. The rustic metal door is combined with a green chalkboard in almost all over the kitchen wall.
This weird combination creates a harmonious and playful vibe in the kitchen design and also the pantry. It's an interesting addition to provide access to the larder and wine fridge.
5. Pantry Door Ideas with Maximum Space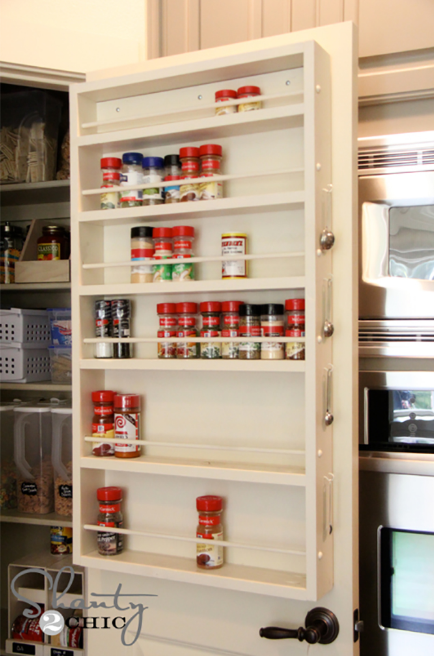 Not many people experience the luxury of revamping pantry door, especially for people who don't have a lot of space to store their stuff. So, make sure you already use all of the space left in your kitchen.
You probably think that you are already using your pantry space in maximum. Well, think again. There's something you might miss out. It's actually a very valuable area in your pantry. It's the back of the door. You need to put this space to good use. Check out this smart pantry door spice rack which is designed by Ana White.
6. Vintage Pantry Door Ideas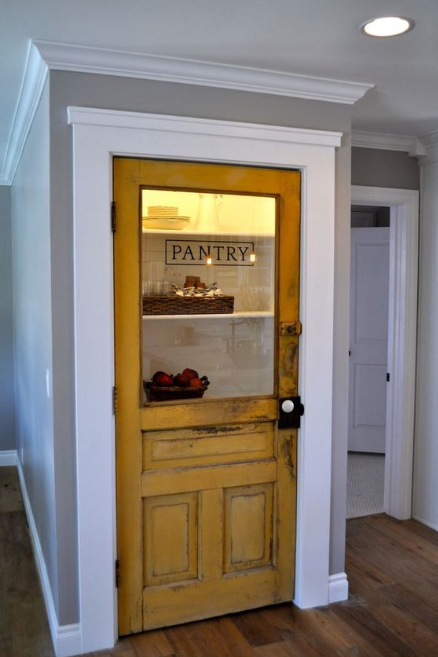 Another stylish approach you can have for your pantry door design, vintage is a great style to apply to the pantry door. It adds a little charm to the middle of kitchen design. As you can see, this pantry door would definitely catch people's attention.
With a clear glass, you can see what's inside the pantry. You've got the reason to keep your pantry neat and out of clutter.
7. Coffee-Shop Look on Pantry Door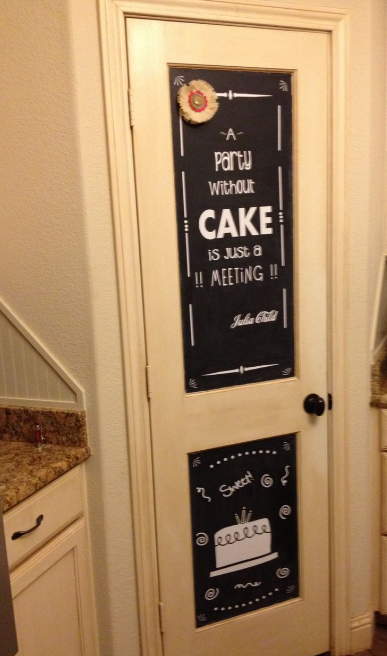 A simple chalkboard space in the middle of the door would offer a unique elegance to your pantry door. It's got a coffee shop look too. You can also get the look by collecting a variety of posters that are similar to the ones you see often in many coffee shops and stick them to the pantry door.
The posters tend to be contained in an image of coffee mugs, foods, thoughtful messages and many more. With chalkboard, you can also make your own poster by drawing an image or writing thoughtful messages using chalks.
8. Minimalist Pantry Door Ideas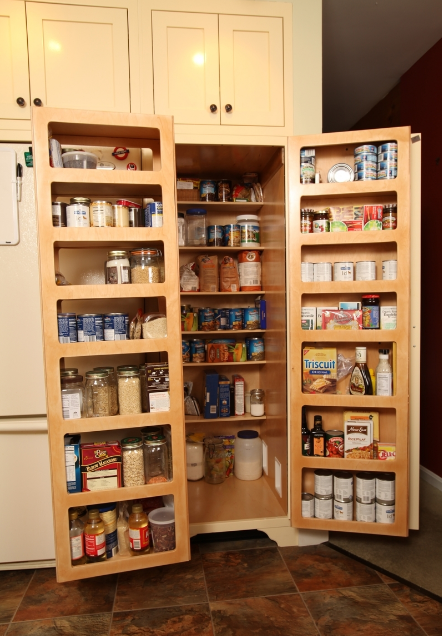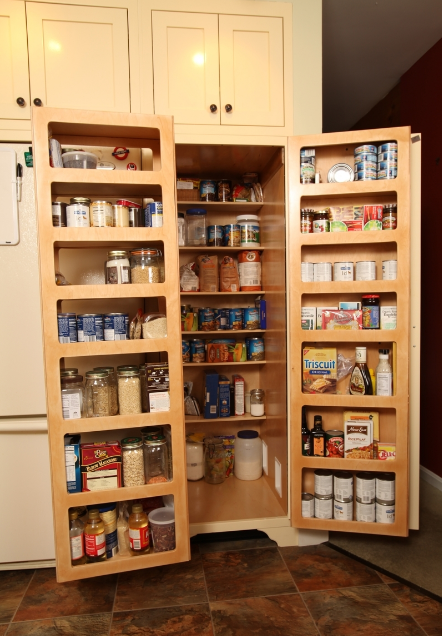 If you don't have much space left for your pantry, you can choose to have a small pantry like this one. It's even placed in a set of a kitchen cabinet. The storages are all over the side of the pantry. Even though it's small in size, you can still put as much stuff as you need.
Being minimalist doesn't mean you will out of space. In fact, it's giving you a chance to be creative in managing your storage.
9. Simple Sliding Pantry Door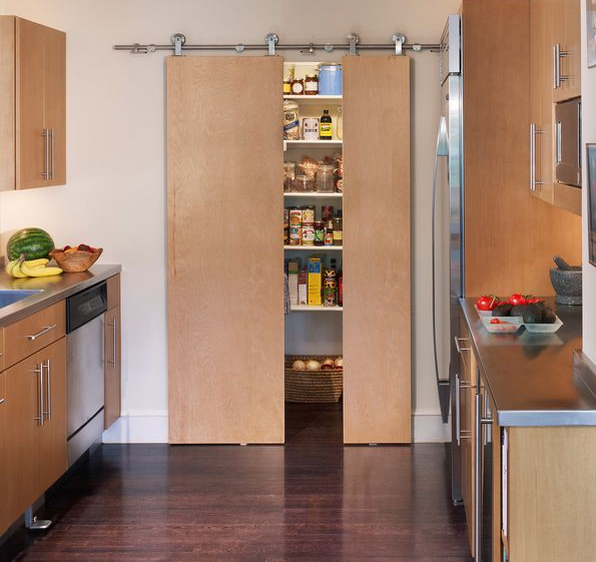 If you don't want to bother getting texture and design for your pantry door. You can go really simple and easy with it. Check out this super simple but effective sliding pantry door. It's a good idea for your kitchen who don't want to get your pantry door to be over.
10. Farmhouse Pantry Door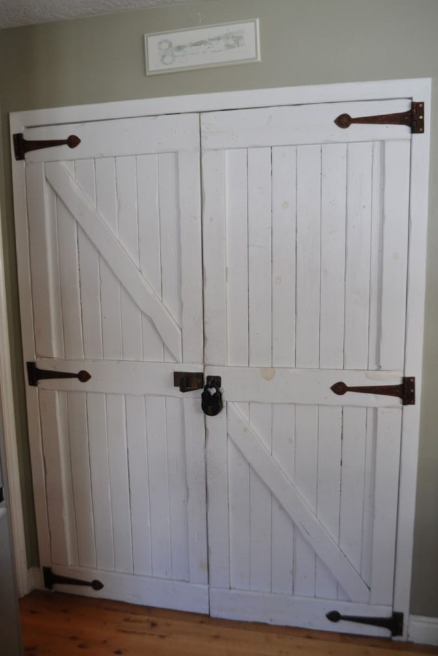 To give your kitchen a warm-homely appearance, you can try this farmhouse door design for your pantry. The great hinges define the whole design of the house. The vintage lines that this door has offered are dominating pretty well.
Pros and Cons of Designed Pantry Door
Pros:

It looks more impressive and interesting.
It goes well with any style of the kitchen.
It's very useful for the pantry itself.
Your cooking's supplies would be stored safely.

Cons:

It wastes more of your space.
It tends to be looking too flashy.
Conclusion
After all, those 10 pantry door ideas look so inspiring. You can choose among those ideas which one deserve to be your pantry door's design. You can decide it based on the style you have in your kitchen.