Some inspirations of white quartz countertops to create a shiny focal point to your kitchen will deserve some exploration. Choosing a white color for kitchen might be the safest decision you can make for it.
White color in kitchen has been continually popular for years for some good reasons. One reason, the color of white make your kitchen feels good. It represents happiness, clean, purity, and innocence. I'm pretty sure that you want that feeling in your kitchen.
White color would make the room to feel more airy and spacious. It encourages yourself to keep the room clean because a single dirt would be hard to hide on a white surface. White is a basic color, so it can go with every color. It never goes out of style, you won't be confused about what to do with white color.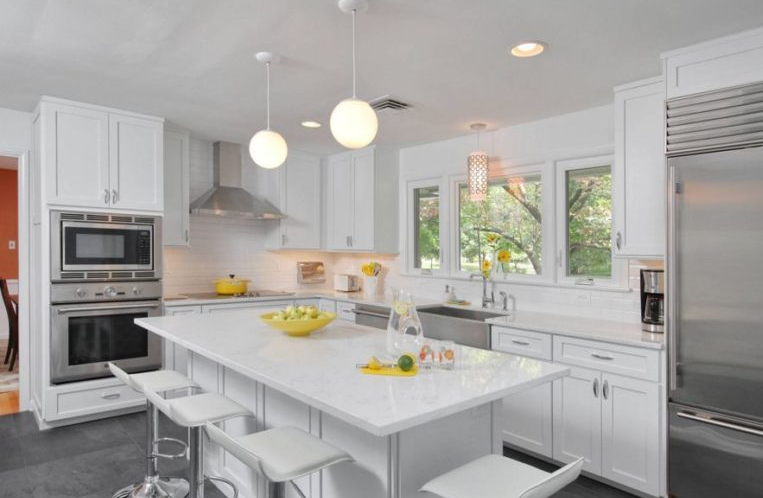 Let's talk about the quartz countertops. The material of quartz are man-made, manufactured by mixing crystal quartz with flecks and pigments of other minerals. Those add a cheerful and lovely sparkle. White would be taken to a whole new level when it's in the quartz countertops. It's gonna be a full-on glimmer.
Here are some recommendations for white quartz countertops that you can explore. Hopefully, they could inspire you to choose that countertop for your kitchen.
Sparkling White Quartz Countertops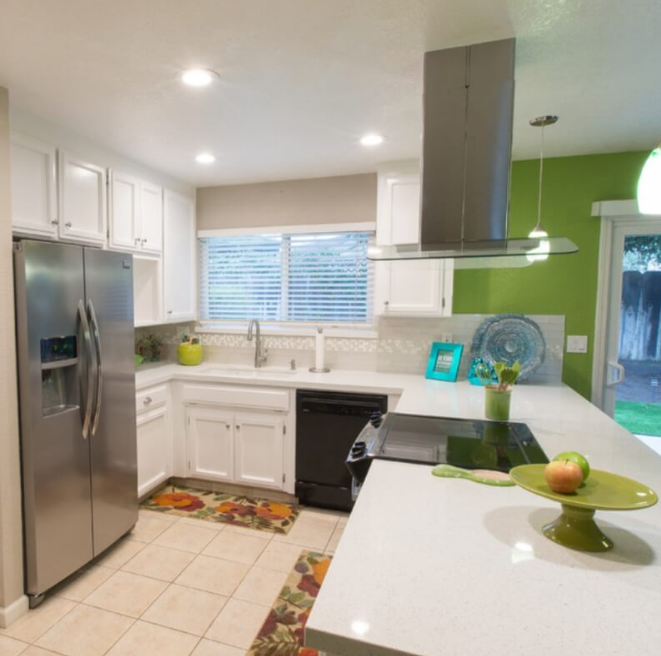 Wanna get your sparkling kitchen sparkle more, you may wanna install the sparkling white quartz countertop like this one. Check out the countertop, it looks so clean and sparkly. There's a stunning dimensional dept on the surface.
It would be a great choice for your kitchen if you want to have a sparkling focal point. Having a small kitchen? Don't worry the sparkling white would magnify and capture the light, it would get the room more cheerful.
We agree that white quartz countertops would make a small room to be felt more spacious and airy. As you can see in the picture, the white countertops deliver nicely. With a clean white surface on your kitchen, any color, solid or light, would create a good accent on it.
Iced White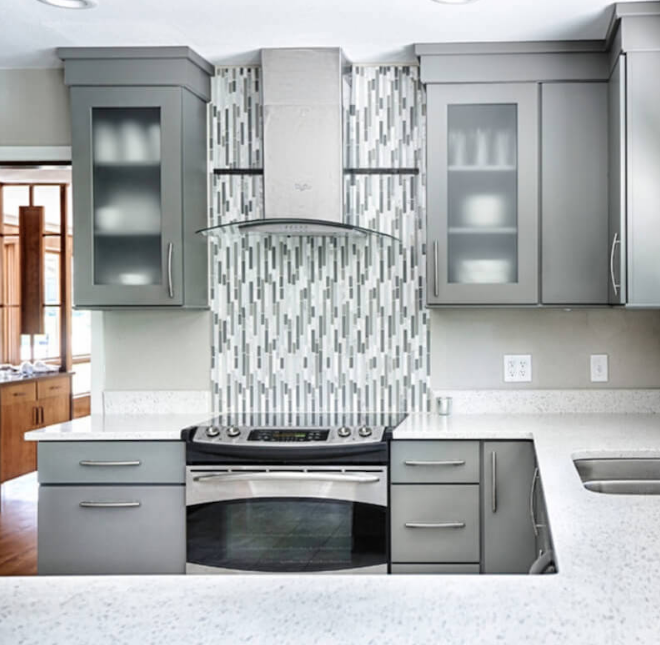 Another type of white you can choose for your kitchen countertop is this iced white. Why it's called "ice" because it's as clear as an ice. It's got a 3D textured look but it's actually smooth. It feels flawless without any exposed sharp edges.
Because of that smooth surface, this iced white quartz countertop is easy to clean. It doesn't require special maintenance. If you need some custom shape for your kitchen, you can get this countertop with a variety of edge treatments without even bother getting rough spots or flaws.
There is some cool option you can have with white quartz countertops for your kitchen. I believe any of that would step up your kitchen's design style from ordinary to perfection. Some home improvement stores would offer you with the countertop that matches your kitchen.
Arctic White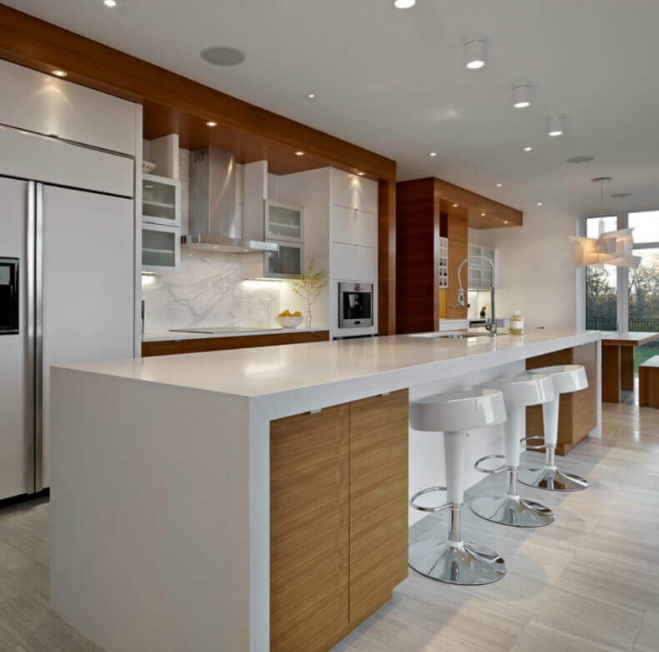 The solid and glossy look of that white kitchen countertop is perfect for your contemporary style. The modern style would experience a whole new level with this arctic white quartz countertop. You might get worried about white color because it would be a hard work to keep its pristine shine.
Quartz countertop doesn't need a lot of attention. It doesn't need sealing and it's very easy to keep it clean.
Frost White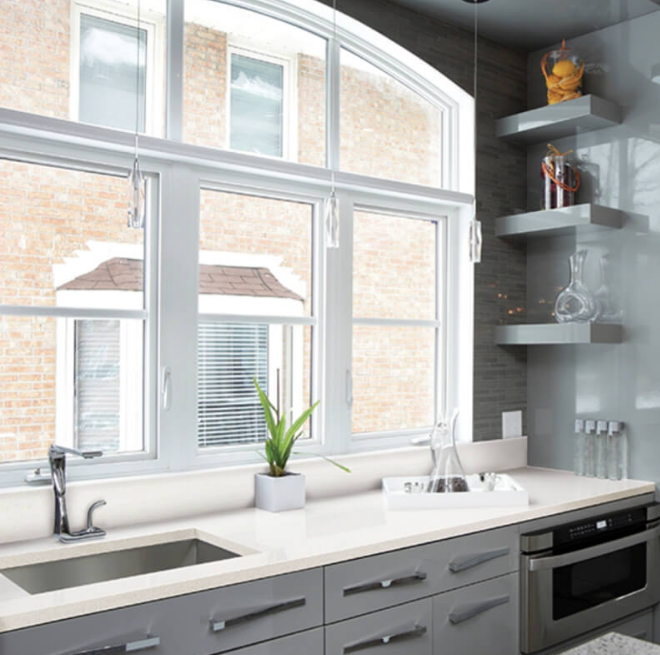 A clean white countertop would look so shiny and stunning. The frost white would make such amazing look to your kitchen. You don't have to afraid of it's being plain and black. This frost white quartz countertop would impress you after all.
It's got enough subtle, glossy speckles to give more aesthetic appeal into your kitchen. You don't have to go all basic when you are having white quartz countertops, you can paint the walls with other colors, or you can just hand new curtains behind the windows to create some decorative treatments to your kitchen.
Stellar White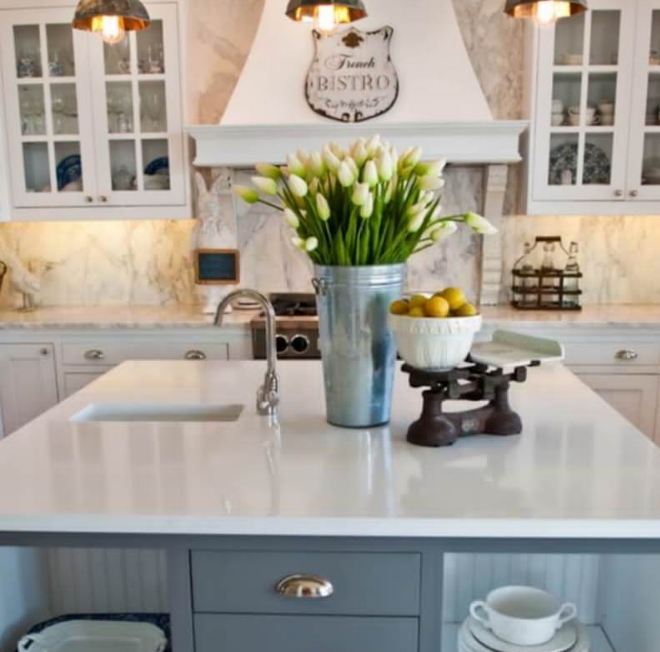 With this type of white color, you will have delicate flecks of gray on a light white at the background. That would give you an ultimate design flexibility. You can have the countertop for the kitchen island because it's ideal to be in the center of the room.
There are many shapes and sizes available in this man-made material. You can choose it based on your room's need. For a soft and appealing look of a kitchen, you can have this stellar white quartz countertop on your kitchen island.
Metro-Styled White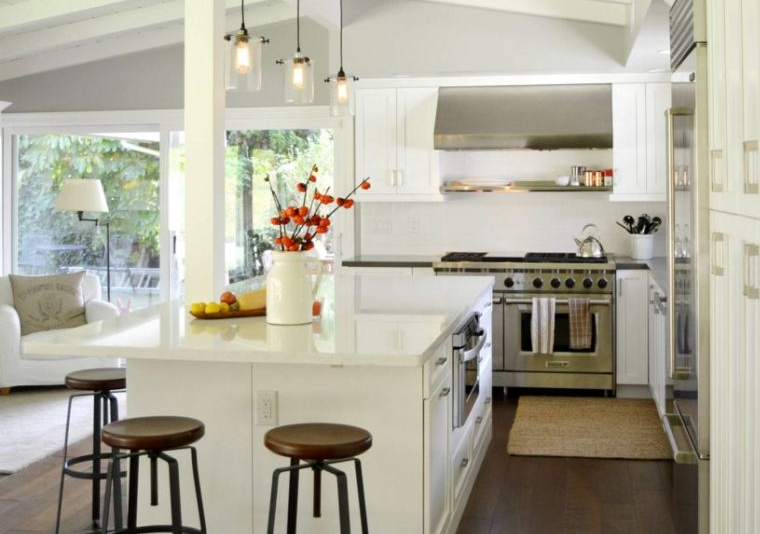 You can call this white as metro-styled white because as you can see, the white quartz countertop is applied in a metro-styled kitchen. There's something really urban stands between the bar chairs to the subway tile.
Check out the white quartz countertop, it doesn't look like it's standing on its own. It really blends well with the metro style applied in this room. That shows everyone how flexible a white countertop can be.
Elegant White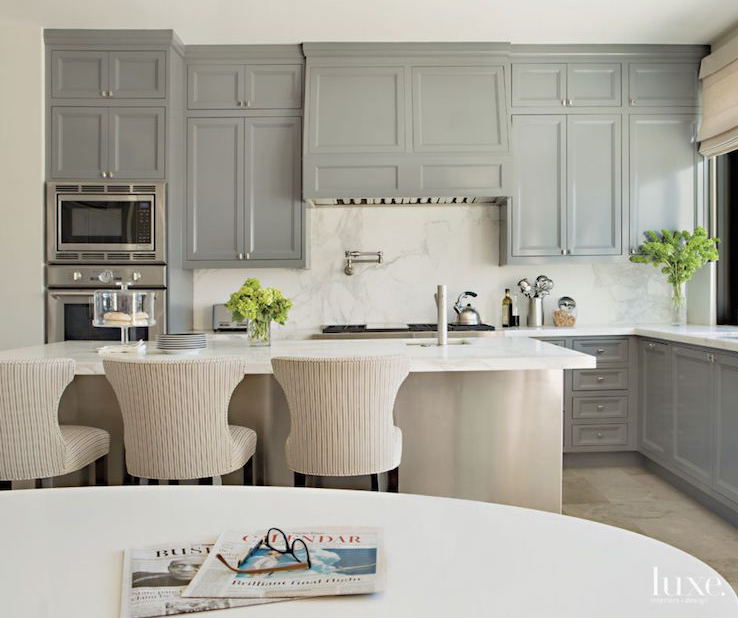 Basic color like white can bring out the elegance of the room. The whole atmosphere would gladly turn into the source of elegance when choosing white as the main color. Take a look at this marble backsplash with quartz countertop. It sparkles with its elegance and sophistication.
You can have this idea as your inspiration for your kitchen design. In this kitchen, the white countertop is paired with the muted, soft blues cupboard that offers a luxurious experience in the kitchen. The soft color combination appears to be perfect in the kitchen.
Pros and Cons White Quartz Countertops
This type of countertop is relatively new. Because of its good qualities, this quartz countertop has a loyal following. The attractive appearance and the durability of this countertop material make it a perfect choice for your counter in the kitchen.
Pros:

It's a manufactured product with a great quality.
It looks very attractive.
It's available in any other colors besides white.
The durability is as same as concrete and granite.
It's got hard surface materials.
The surface is clean and non-porous.

Cons:

The price will be expensive.
The contemporary looks may not be flexible for another style.
Conclusion
After all, a quartz countertop is one of the most popular options for kitchen's counter. All of those ideas above could be your consideration in applying white quartz countertops in your kitchen.