Powder room is one of the most-visited rooms in your house. Looking at tedious wallpaper in a cramped room for a long time can be irritating. Therefore, your powder room needs refurbishing. Check out these 10 breathtaking powder room ideas for an ultimate comfort that you have been longing for.
1. Stripped Blue and White Powder Room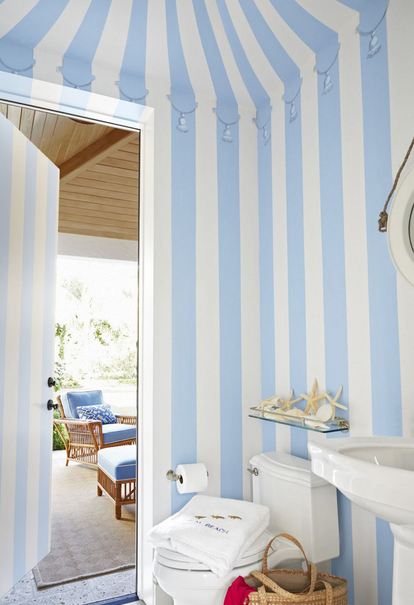 Add more colors to your powder room can enhance its look a bit, providing nuance to it. You will not feel cheesed-off anymore due to spending much time in it. Just like this powder room.
The bright blue strips blend perfectly with the white strips, creating a cheerful and fresh appearance to the powder room. Besides, the bright colors used in this powder room make it look more spacious than it really is.
2. Minimalist Powder Room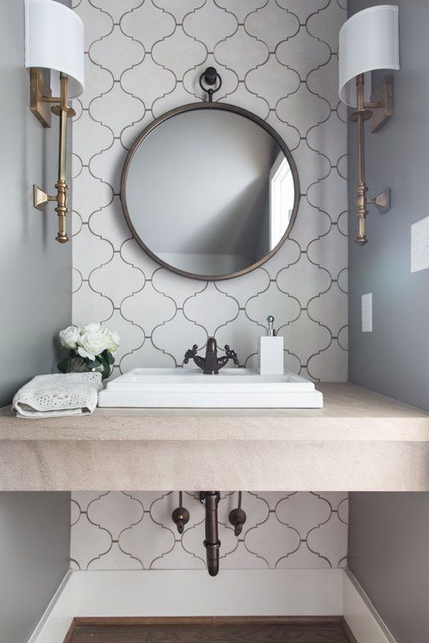 An inviting and comfortable powder room does not have to be colorful. A very simple one that uses the shades of black, white, and grey can turn your dull powder room into a terrific one.
This powder room implements minimalist style. It does not provide various kinds of colors that might brighten it up. It only uses the simplicity of white, grey, and brown, instead. Despite being simple, it still provides an elegant touch.
A round mirror is hung in the middle of the room. It is just simple without any carved patterns that can accentuate the mirror. The wallpaper has simple patterns that complement the plain wall. And the lamps are elegant.
3. Bold Powder Room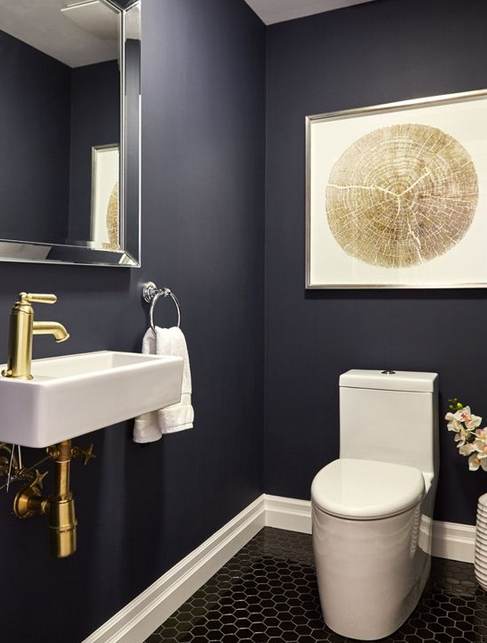 This powder room looks modern and awesome although it does not use many colors for the fixtures. It remains simple without being overwhelmed by too many adornments. The only one adornment in this room is the large silhoutte that draws everyone's attention right when they step into the room.
The color of this powder room, which is navy blue, lends the touch of boldness. The baseboard is simple without any sophisticated moldings. Everything is just perfect for a modern powder room.
To add the touch of steampunk style, the faucet of the sink is made of – or maybe look like – piping with copper finish.
4. White and Black Powder Room Ideas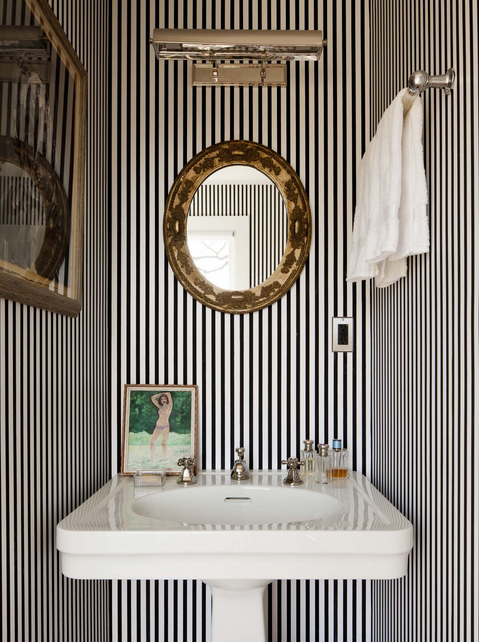 This white and black powder room denotes simplicity. The colors add a dramatic effect to this cramped powder room. A round mirror with copper finish add the touch of classic style to the powder room, making it a perfect focal point that can draw attention.
The round mirror is a perfect focal point since it adds the touch of classic look with its distinctive patterns and copper finish. To kick it up a notch, a photograph is placed on the sink.
Pro : Black and white strips make the powder room less boring.

Con : The thin strips might make people feel dizzy.
5. Sleek Powder Room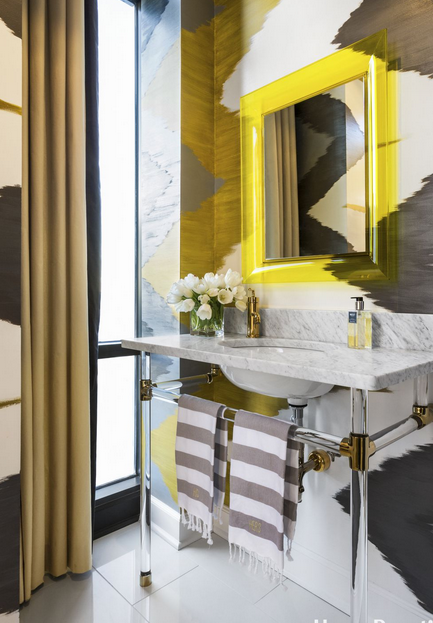 The sleek design of this powder room provides you an ultimate comfort. When stepping into the room, the glossy white tiles and crystal-like pedestal sink's legs make the room look super clean and tidy.
To make this powder room look bigger, glossy large white tiles are installed meticulously since bigger tiles and bright colors have always been nice tricks to make a cramped room look bigger.
The most conspicuous decoration is the colors of the wall. White, black, and yellow blend perfectly to turn the powder room into a more inviting one. They also provide a cheerful ambience due to the bright yellow wall and mirror.
6. The Combination of Steampunk and Modern Style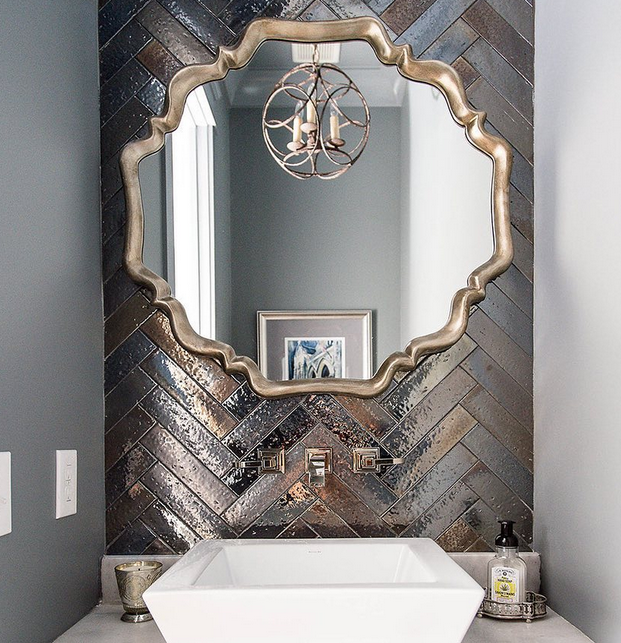 It is such a unique powder room. Although it is a very small room, the design has made it more inviting.
The first thing that you notice when stepping into it is the tiles and mirror. The mirror has a unique octagonal frame with copper finish. The brass tiles embody the steampunk style very well. Furthermore, the distressed finish give a rustic look to the room.
Another unique thing about this room is the walls. They are all plain just like what you usually find in modern houses. This powder room has proven that modern and steampunk style can be concocted perfectly
Pro : The distressed brass tiles provide a classic and industrial touch to the room.

Con : It will take a long time to install small tiles.
7. Natural Powder Room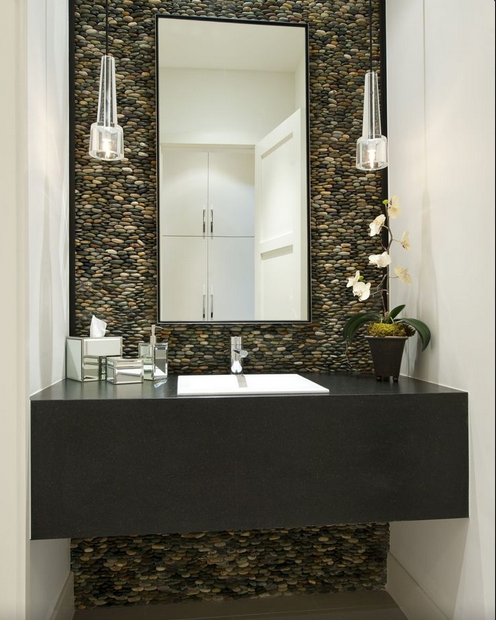 Bold and luxurious. That is what people might think about this powder room when using it. They will soon forget the small size of the room since it has turned into one of the most inviting rooms in the house.
For the luxurious touch, the homeowner of this room installs small pebbles as the backsplash. The pebbles provide natural brown and gray hues which lends a natural look to the room. The pendant lighting adds a romantic ambience to it.
8. Luxurious Powder Room Ideas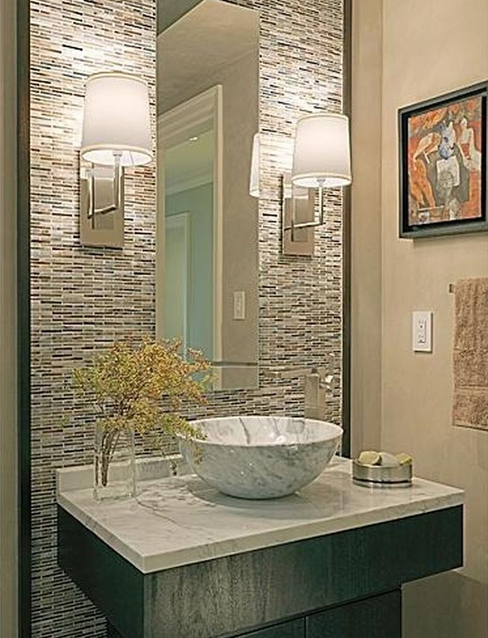 Another brilliant idea for a lush powder room. Natural beige hues have always been your great bet when it comes to adding the touch of luxury in your house including your powder room.
The most noticeablething in this powder room is the backsplash which is made of small tiles. The black, brown, and beige tiles create mozaic look that reflects the lighting and, as a result, provide a more dramatic effect.
Natural stones are used for the sink and the top of the vanity, enhancing the luxurious touch in this room. To jazz it up, a vase and decorative plant is put on the vanity.
9. Vintage Powder Room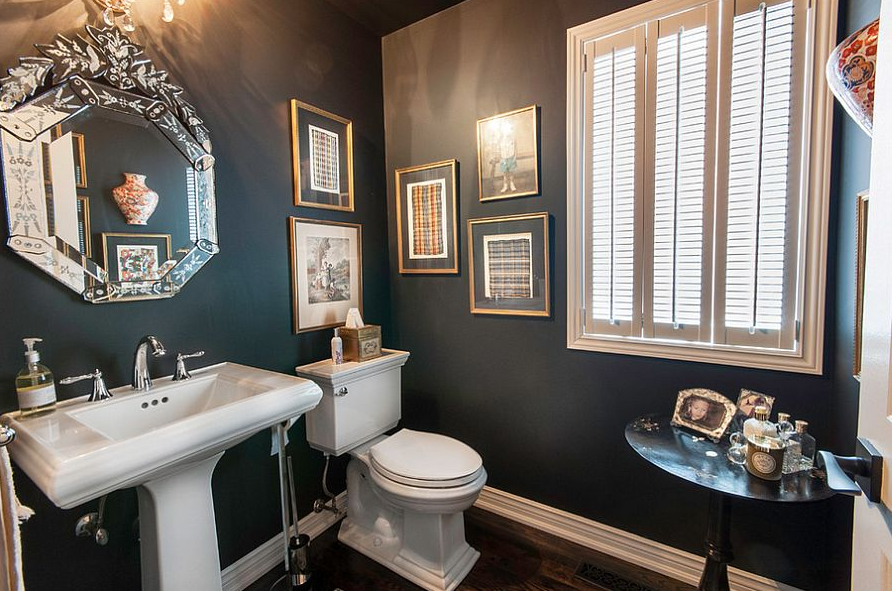 You can always have a vintage powder room. You only need to paint the walls navy blue, gray, or any bold and vivid colors. Don't forget to hang some photographs or silhouttes on the wall. And to make the powder room look more appealing, hang a mirror with distinctive design over the pedestal sink.
10. Steampunk Powder Room Ideas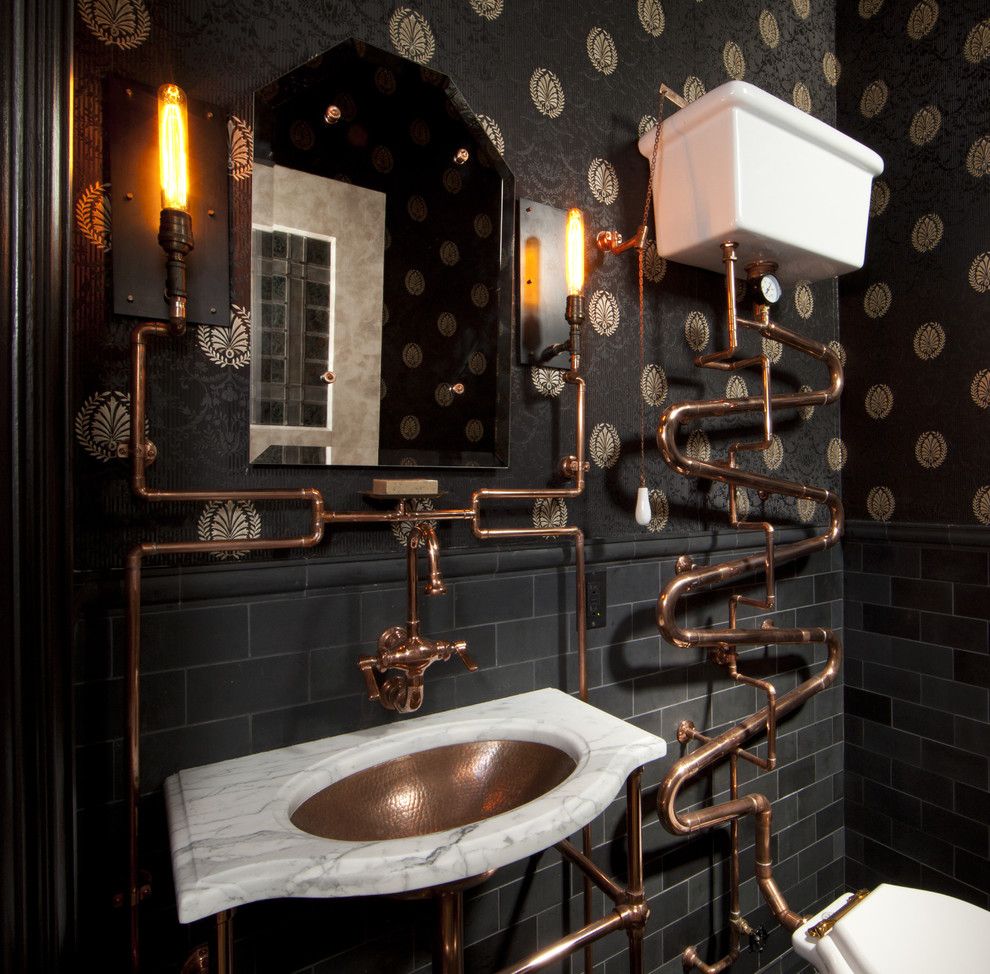 If you are crazy about steampunk style, this powder room idea might be what you are looking for.
Steampunk style is all about rustic and industrial look. Therefore, copper finish, piping and distressed fixtures are the most conspicuous features.
This bathrooom uses industrial pipings for the faucet, pedestal sink's legs, and the toilet tank. Black matte bricks complement the industrial look, and so do the fluorescent lamps. They all can make a pretty good steampunk powder room.
Now you know that powder room is not solely a small room in which you can do your stuff. By implementing one of these powder room ideas, you will find your powder room cozy and impressive.